North Wales Weekend Trip & WWSR
15 September, 2017

-

17 September, 2017

£10.00 – £75.00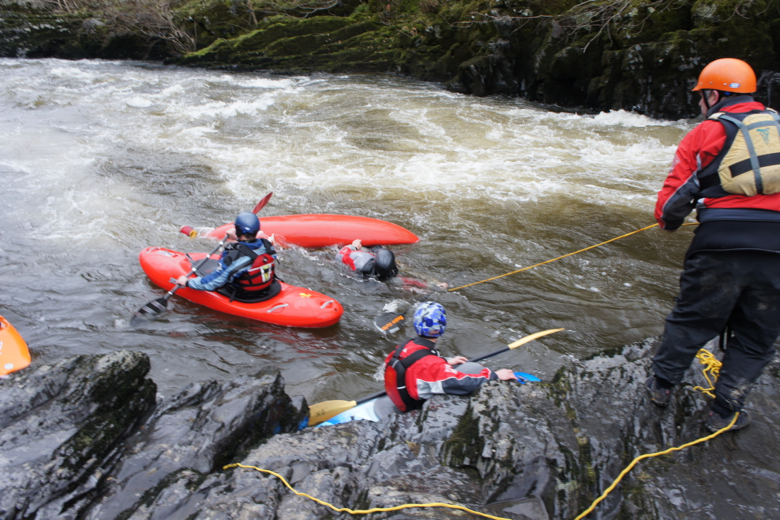 ---
River Grading – 3-4
WWSR is now full!!
There will be a white water safety and rescue course run by Chucky Davison, run on the above dates. This is an excellent course to those that are new to white water and are looking to improve their rescue skills and confidence in a white water environment. It is also good for experienced paddlers looking to update their skills. There are only 6 places available on a first come first served basis.
There will also be a general paddle at the same time. The rivers paddled will depend on water levels. Some of the rivers we could paddle could include:
All paddlers should be aware that there is a charge for using The Tryweryn. This charge is £7 for BCU members and £14 for non-members. So please ensure you bring your BCU cards with you. I will attempt to gain a club booking for the Tryweryn so that everyone can pay the £7 rate.
For the people going on this trip we will be staying at the Bala bunkhouse more information is available at the link below.
http://www.balabunkhouse.co.uk/
It is estimated that the cost of the trip will be approximately £40 per person including breakfast.
The cost of the course will be an additional £75.
For those of you who are coming away with Bromley Canoe Club for the first time we have created a document telling you what to expect and a list of things you will need to bring please see the link.
Please note that you WILL require a sleeping bag for this trip. Anyone requiring any club kit should contact me or another member of the committee.
If anyone has any questions please fell free to email me
Ben
To book on this weekend trip please scroll down, you'll see a "ticket" at the bottom, select your quantity, fill out the form and purchase the ticket using a credit or debit card. You will need to setup an account on the website, you'll  get the chance to setup an account after you proceed from the basket.

We are using PayPal for our payment gateway, if you have account with PayPal then just login with you account details. If you don't have an account, please proceed to PayPal and either setup an account or click on Checkout as a guest.

This will be your booking for the event, you'll receive via email a receipt for the purchase and after successful payment you'll receive a ticket, please use this as proof of your place on the course, print it and bring it with you on the trip.

If you have any issues or questions with your account or purchasing please get in contact with Rob Hole-Thomas here.
---
Who's Already Booked on
| Name | Booked What? | Looking for Transport |
| --- | --- | --- |
| Ed Sumner | Paddle Only | Undecided?! |
| Ben Satchell | Paddle Only | Undecided?! |
| Michael Stannard | Paddle Only | |
| Usha Stevens | Paddle Only | Looking for lift! |
| Phil Richardson | Paddle Only | Undecided?! |
| Jonathan Miles | WWSR | Offering Lift |
| David Hirst | WWSR | |
| Nicole Lever | Paddle Only | |
| Claire Lawson | WWSR | Offering a lift |
| Roger Huggett | Paddle Only | Undecided?! |
| Caroline Wolage | Paddle Only | Undecided?! |
| Rob Hole-Thomas | WWSR | |
| Lucy Hole-Thomas | WWSR | |
| Alice Lawson | General Paddle | |
| Nic Morton | General Paddle | |
| Katie Bennett | General Paddle | Yes |
| Debbie Bush | General Paddle | Possibly |
| Vernon Bush | General Paddle | Possibly |
| Ian Marquardt | General Paddle | Offering Lifts |
| Alistair Watson | WWSR | ??? |
| Simon Colwell | General Paddle | ??? |